RAF Fairford on standby for space shuttle for last time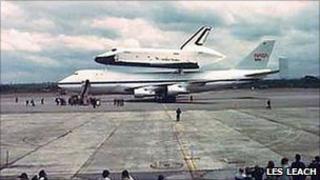 Staff at RAF Fairford are gearing up for a possible emergency landing by NASA's space shuttle for the last time.
The final flight of Atlantis is due to start in Florida at 1626 BST, weather permitting.
As ever, the Gloucestershire air base could be used as a landing site should something go wrong after take off.
The site's long runway makes it a suitable back-up destination, along with a handful of other sites in Europe.
Airfield manager Tony Maycock said: "I suppose I'm sad. I've been here for 10 years and we've been on standby for that time.
"We hope we never see it, but this is the last time we hope we never see it."
Although staff at Fairford will be ready should the runway be required, the chances of it actually being used are very slim.
Emergency zones
Nasa will always try to recover the shuttle to the US, but if that is not possible they can use other destinations.
Fairford, the only place in the UK suitable for a landing because of its runway length - two miles (3.2km) - would be fourth choice, after three other European sites.
Because of the speeds involved, if something goes wrong it could be landing at Fairford just 15 minutes after launching from Florida.
As the Shuttle climbs it will pass through several emergency zones and the crew will be told where they would have to go in case of emergency.
Almost immediately after take-off they would try to return to the US, but once they get to a certain altitude they would have to head out across the Atlantic and try to land at either Fairford or another base in Europe.
About 25 people at Fairford are involved, from fire crash rescue and security, to the base commander who would head up the convoy that would move out onto the airfield should it land.
A space shuttle has once landed at RAF Fairford, but that was on the back of a Jumbo jet when it was heading to the Paris air show in 1983.