Forest of Dean wild boar caught on camera by artist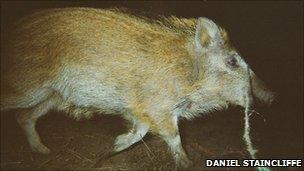 An artist has captured a wild boar on film in the Forest of Dean by using trip wire-operated cameras.
Daniel Staincliffe, who has moved into a tent in the forest for the project, set up 30 camouflaged cameras in an area boar are known to visit.
He was told about the location by the Forestry Commission which is equally keen to see the results of his project.
His first photograph shows a boar setting off a trip wire with its snout.
Boars have roamed wild in the Forest of Dean since 2004, when they were reintroduced following an absence of 700 years.
The cameras will remain in place for three weeks and the results will be exhibited later in the summer.
Mr Staincliffe, who is usually based in Manchester, said he had made the camera kit out of pine, string and stones to blend into the environment.
He said the cameras had been set up where there was evidence of boars visiting and wallowing in the mud.
"We've got a path here which we know has been used and there's some evidence of rooting as well," he said.
"I like to create works that allow me to lose control over what I'm producing. I've just got no idea what I'm going to get back."
Mr Staincliffe's exhibition will also include video and wooden mechanical sculpture.
It aims to offer a platform for public opinion on the reintroduction of wild boar in the UK.
A cull was introduced in the forest last year after complaints of damage to gardens, danger to dog walkers and riders and boar-related road accidents.
The project is supported by the National Lottery through Arts Council England and Forestry Commission England.
Related Internet Links
The BBC is not responsible for the content of external sites.