Canal infill to level Stroud school's football pitch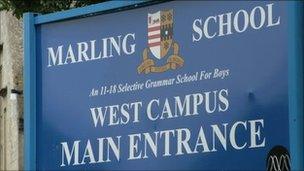 Plans have been unveiled to use material from the restoration of the Cotswold Canal to level off a sloping school sports field in Gloucestershire.
A football pitch at Marling School in Stroud is uneven and slopes down towards the waterway.
The restoration includes plans to excavate infill from the canal's route.
Dave Marshall, from Stroud District Council, said the alternative would be "to tip it in a hole in the ground somewhere else".
"This is infill where the canal has been consciously filled in over the past 50 years," he added.
"We're talking around 50,000 cubic metres over a three to four year period."
Silt that has been dredged out of the canal has already been deposited on nearby farm land.
The plan to level off an entire sports field, which also includes a rugby pitch, has been submitted to Stroud District Council.
The ongoing Cotswolds Canals Restoration Project aims to reconnect the River Severn with the River Thames.
Related Internet Links
The BBC is not responsible for the content of external sites.