GCHQ in Cheltenham struggles to keep 'internet whizzes'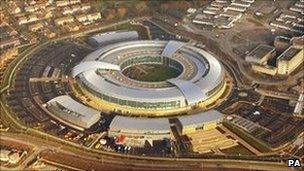 Government listening post GCHQ in Cheltenham is struggling to retain "internet whizzes" because it cannot match corporate salaries.
The situation was revealed in the parliamentary Intelligence and Security Committee's (ISC) annual report.
Giving evidence, GCHQ director Iain Lobban said he was struggling to recruit and retain key staff to counter the growing threat of cyber warfare.
"They will be working for Microsoft or Google or Amazon or whoever," he said.
"And I can't compete with their salaries.
"Month-on-month, we are losing whizzes who'll basically say 'I'm sorry, I am going to take three times the salary and the car and whatever else'."
The ISC said it was "concerned" that GCHQ (Government Communications Headquarters) was unable to retain a "suitable cadre of internet specialists".
They also rebuked the organisation for losing track of equipment worth up to £1m over the past 10 years.
The ISC said that while most of the items did not attract a security risk, GCHQ had admitted that it could not guarantee that this was so in 5% of cases - about 450 items.
"Although the committee has no reason to believe national security has been compromised, the agencies must do all they can to avoid the loss of potentially sensitive equipment," the report said.
"The public interest requires that GCHQ learns from the repeated mistakes of the past."
Overall, the ISC expressed concern that the 11.3% budget cut for the intelligence agencies, including MI5 and MI6, would affect their ability to "maintain current levels of coverage of all aspects of the threat".
Related Internet Links
The BBC is not responsible for the content of external sites.