Sex abuse violin tutor Henry Stayt-Mackey spared jail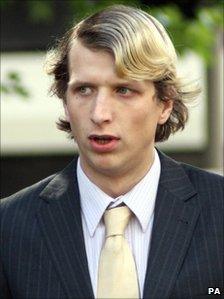 A violin teacher from Gloucestershire who was convicted of abusing a girl while giving her music lessons has been spared jail.
Henry Stayt-Mackey, 24, was 16 and 17 at the time of the offences which took place at his family home at Redmarley.
Gloucester Crown Court was told the young girl, now a teenager, simply wanted him to admit his guilt.
Stayt-Mackey was sentenced to 12 months in prison suspended for two years by Judge William Hart.
In June he was found guilty of seven charges of indecent assault and five of sexual assault.
Then the court was told Stayt-Mackey had put his hand up the girl's top, touched her indecently and made suggestive actions - including pressing up against her back - while she was playing her violin.
The girl was in court on Thursday morning to hear him sentenced.
In a statement read by the prosecution, she said: "Over the past 15 months my life has been turned upside down... It's been extremely heartbreaking."
The girl said she had enjoyed learning music, had great friendships and an active role in her local church and youth group but as a consequence of what had happened she no longer had music lessons and had lost a number of friends.
She added the abuse and subsequent trial had put a major strain on her family, affecting her relationship with her father.
Despite the impact Stayt-Mackey's actions had on her, she said all she wanted was for him to admit what he had done.
"I want justice. Justice would be Henry admitting it," she said.
Sentencing him Judge Hart said: "I suspect nothing would have mattered more to her [the victim] than for you to accept your actions."
The judge declined to make a sexual offences prevention order, but told him in due course the Independent Safeguarding Authority would place him on a barred list, disqualifying him from working with children.
"These offences happened between six and eight years ago. You were old enough to know better, but you were still very young," Judge Hart said.
Related Internet Links
The BBC is not responsible for the content of external sites.