Gloucester named first 'bee guardian' city in UK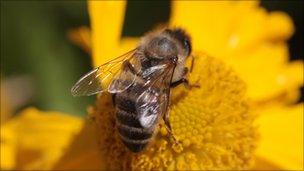 Gloucester has become the first 'bee guardian' city in the UK as a result of a £4m council savings exercise.
Bedding plants have been cut from the council budget to save money and have been replaced by meadow flower seeds.
A city council spokesman said the new flowers were "finding a positive in a negative", whilst saving money and attracting wildlife to the city.
Charity Bee Guardians, which handed the accolade to the council, said the city should be "so proud" of its new title.
Jessie Jowers from Gloucester Bee Guardians said it was now an "inspiration for cities all over the world".
"All over the city, flowers are now blooming, providing nectar and pollen for all sorts of important bee species and other pollinators," she said.
The new seeds have replaced winter bulbs, all of which have been dug up and given to local community groups so they are not wasted.
Conservative councillor Steve Morgan, deputy leader of the council with responsibility for the environment, said: "Now that these meadow flowers have started to bloom insects are making a beeline for them.
"As a council we have undertaken to do all we can to protect and preserve our environment. This is one of many ways we are doing that."
Bee guardian status can be granted by the Bee Guardians to anyone, from individuals and companies, to universities and schools.
Bee experts say nearly all of the UK's 250 species of bee are in decline. Honeybee numbers have fallen by 10 to 15% in the last three years.
Related Internet Links
The BBC is not responsible for the content of external sites.