Rare breed sheep vanish from Gloucestershire field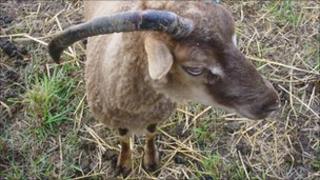 Almost an entire flock of rare sheep has vanished from a Gloucestershire field.
Terence Pritchard found 12 of his 13 Castlemilk Moorit sheep had vanished after a neighbour reported hearing a "commotion" on Sunday.
A police spokesman said it was not yet known if the sheep had been stolen from the farm in Redmarley but an investigation was under way.
Mr Pritchard thinks the remaining sheep must have ran away from thieves
He said: "I think if they had gone walkabout they would all have gone.
"I suspect that what has happened is that they have been corralled with some hurdles and this one has probably jumped over and escaped and the rest have been taken."
Mr Pritchard said the sheep, which he began breeding nine years ago, are quite an athletic breed and can jump over hurdles as high as 3ft (1m).
"We chose this particular breed because they were so rare," he added.
"Even if we had managed to keep a couple of breeding females we could have started again but we have no breeding females left."