Cheltenham horse sculptures vandalised before unveiling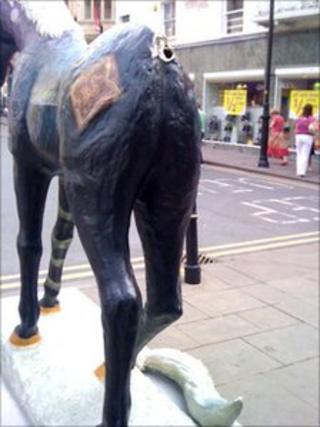 Two life-size horse sculptures in Cheltenham have been vandalised just over 24 hours before they were to be officially unveiled.
The works of art had been placed at various locations as part of centenary celebrations for the town's National Hunt Festival.
They were designed by local artist PJ Crook and painted by local businesses, schools and other artists.
Ms Crook said she was "saddened" by the act of vandalism.
Ten horses had been erected over the weekend at locations including Montpellier, the High Street and at the racecourse roundabout.
Two of the fibreglass animals in the Promenade have been damaged - one has had its tail broken off.
An official unveiling was due to take place on Monday.
Ms Crook said: "I can only imagine that they're so appealing that they've become irresistible.
"I'm surprised that they've been purposely damaged because a lot of work, effort and organisation has gone into this whole project."
She said she was sad "because the other artists have also worked extremely hard on painting them".
The artist said she had anticipated people would want to ride the sculptures but was "surprised" they had been vandalised so quickly.
The exhibition, called Horse Parade, has been organised by Cheltenham Art Gallery and Museum and is due to run until October.