Riots: Gloucester's fire chief praises police's help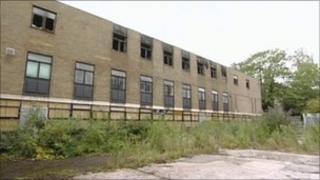 The chief fire officer for Gloucester has praised local police for their help during recent disturbances.
Jon Hall said a police cordon around the site of a fire at a former art college in Brunswick Road helped stop rioters from attacking firefighters.
He said firefighters had a stressful enough job without being attacked or their hoses slashed.
More than 100 firefighters brought Tuesday night's blaze at the former Gloscat building under control.
'Black smoke'
Mr Hall added: "Through the actions of your officers, they were able to extinguish the fire in a very short time without that threat and to avoid the vista of a black pall of smoke hanging over the city on Wednesday morning.
"We've all seen pictures of fires around the country which were dealt with in a different way and a joint operation undertaken that night would appear to be a success by a comparison."
On 9 August police officers in Gloucester came under attack from up to 60 youths throwing rocks and bottles.
Shop windows were attacked and bins set on fire in the Barton Street area of the city.
Fire crews were also involved in a number of incidents on Tuesday night including the blaze at the former arts college.