GWR heritage railway repair to cost £700,000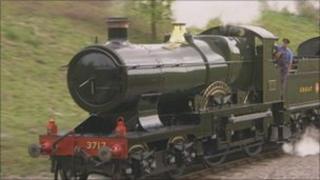 Repairs to a heritage railway line are expected to cost more than originally thought.
The embankment just north of Winchcombe on the Gloucestershire Warwickshire Railway (GWR) collapsed in January.
A surveyor's report shows it will cost £700,000 to repair, £200,000 more than the original estimate.
Spokesman for the GWR, Ian Crowder, said the damage was "as bad as we had feared it would be, but it could have been a lot worse".
A previous land slip on another part of the railway, at Gotherington, was repaired earlier this year, and that scheme came in under budget, meaning the railway already has £350,000 in the coffers.
Mr Crowder said: "We're hoping that the money will continue to flow into the emergency appeal so that the work can be completed by this time next year."
Since the land slip in January the railway line has been blocked and GWR has operated trains on two separate sections - between Cheltenham racecourse and Winchcombe, and a round trip from Toddington.
The repairs to the Winchcombe embankment are due to be completed in August 2012 if sufficient funds can be raised.
"We'll have one railway again and we look forward to expanded onwards towards Broadway and Honeybourne," said Mr Crowder.