Gloucestershire Sea Cadet Force given award for community work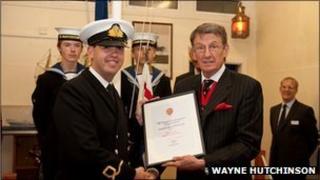 A Gloucestershire youth organisation has been recognised for its "services to the community".
Gloucestershire Sea Cadet Force was given £500 from the Honourable Company of Gloucestershire for its work over the past 12 months.
The Sea Cadet Corps aims to help young people towards "responsible adulthood" using a nautical theme based on the customs of the Royal Navy.
The award recognises local achievements in communities and businesses.
"The award was to recognise our services to the community and with that I was proud to receive it on behalf of the cadets and staff," said Sub Lt Benjamin Nash, commanding officer on Training Ship Gloucester.
"I could not accept the award without thanking the cadets for all they do.
"The unit cannot and will not run without their continued dedication and it's a pleasure to be their commanding officer."
Training Ship Gloucester is affiliated with the Type-42 destroyer HMS Gloucester.