Gloucester 'noisy' buskers public consultation begins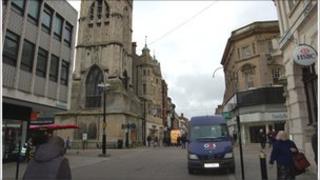 A public consultation is under way in Gloucester to determine the future of the city's "noisy" buskers.
Complaints about some performers had been received by the city council as some local business owners were unhappy with the electronic amplification used.
The authority is now inviting views on whether to allow busking on The Cross, a key part of the city centre, and whether to ban amplified music.
Council bosses said a complete ban on busking was an unlikely outcome.
Paul James, leader of Gloucester City Council, said his personal view was that amplification was an assistance to getting a good quality of performer and to ban it would be "something of a blunt instrument" to use.
The consultation is likely to last for two weeks and will invite opinion from key stakeholders in the city, traders, organisations and individuals.
Council officials will now seek to ensure busking would not clash with any nearby events during the consultation.