Gang injunctions ban pair from Gloucester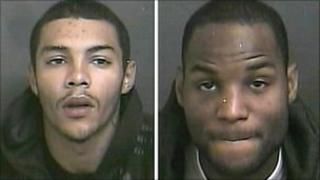 Two men have been served with anti-gang injunctions banning them from parts of Gloucester.
The order on Ashley Nicholls-Perry, 19, from Stroud and Freeston Horsford, 26, from Tipton, remains in place for two years.
Restrictions have also been placed on who they can associate with.
Gloucester is thought to be only the third area of England and Wales to have a gang injunction granted since they were introduced in January.
The injunctions are similar to anti-social behaviour orders and were conceived by the former Labour government after appeals from councils for help.
Supt Gary Thompson, of Gloucestershire Police, said: "It was making people in those communities really, really scared."
The parts of Gloucester where the two men are not allowed to visit include Coney Hill, Barnwood and Barton and Tredworth.
Julian Wain, chief executive of Gloucester City Council, said the problem of gangs in the city was "relatively small scale in number".
"Gloucester is a very safe place to live and work. This is not a city that has got a major gang problem, but this is a community need that we're responding to.
"These two young men and their associates were causing a problem in the community, and the community told the police and ourselves that they wanted something done," he said.
"This is a tool we have available to help deal with this issue, and we've used it and we're going to be successful with it," he added.