Gloucestershire council 'to give jobs to community'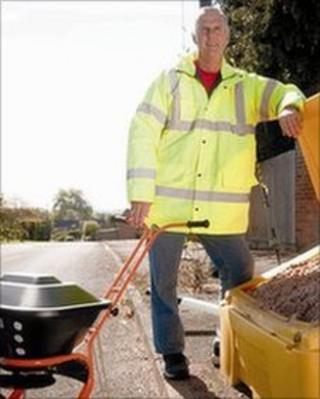 Local communities in Gloucestershire are being asked to help pay for and carry out non-essential road projects.
While council crews will concentrate on vital work, town and parish councils will have to help with work such as grass cutting and gritting pavements.
Gloucestershire Highways, which needs to save £8m over four years, has called the plan The Big Community Offer.
Up to £500,000 has been allocated by Gloucestershire County Council to get the scheme going.
Councillor Will Windsor Clive, from the Conservative-controlled council, said: "Working with community groups, we will be able to introduce bespoke schemes that meet local need at the same time as cutting council overheads and saving money."
There are three elements to the scheme:
Community Action: Community groups are given tools and support to carry out work themselves, for example flood wardens and roadside planting.
Community Match: The county council will match-fund the cost of any scheme the community thinks it badly needs, for example road resurfacing.
Community Top-up: Groups are provided with a product list of services and items that can be bought directly from the council us.
A few towns have already signed up to the scheme, such as Lydney Town Council which has volunteered to spread salt - provided by the county council - on its pavements.
Elsewhere, Twyning Parish Council has spent £95 on a salt hand spreader for the winter and Stonehouse Community Partnership match-funded the town's recent High Street improvements
Jim Dickson, a member of the partnership, said: "A lot of eyes will be on this scheme - it's pretty radical for the UK."