Cheltenham's Imperial Gardens redesign begins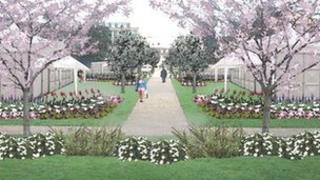 Imperial Gardens in Cheltenham will have a new look by April next year as work begins on a £145,000 redesign.
A new pattern of flower beds is now being created and a new decorative seating area is being installed at the front of the garden bar.
After a summer of consultation, councillors agreed last month to move forward with the improvements.
Other work will include the addition of a tree-lined avenue and restoration of a paved garden with a central pond.
Cheltenham Borough Council believes that the increase in size and popularity of the Cheltenham Festivals has meant that improvements are essential to accommodate more marquees and people in the gardens.
Councillor Roger Whyborn said: "Our aim is to create a festival in a garden atmosphere during the festival periods, and to enhance the gardens all year round - gardens which have been described as the jewel in Cheltenham's crown."
The Friends of Imperial Square and Gardens is also raising money to reinstate railings which were removed in the 1940s, to rejuvenate the historic past of the gardens.