Gloucester man Keith Soons 'murdered over iPhone'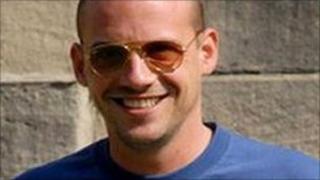 A father was stabbed to death with a screwdriver after he "remonstrated" with two robbers who had stolen his iPhone, a court has heard.
The jury at Bristol Crown Court heard Keith Soons, 36, died in Cheltenham on 5 February after being attacked outside a friend's house.
Michael Sexton, 28, of Moors Avenue, Cheltenham and Richard Smith, 27, of Fairview Road, Cheltenham deny murder.
The court heard they both blame each other for delivering the fatal blow.
Mr Soons was found by a passer-by, lying in the street at 08:00 GMT, five hours after the attack. He died in hospital later the same day.
On the opening day of the trial the jury was told both defendants admitted being at the scene of the attack in Wellington Lane, Pitville.
William Mousley QC, prosecuting, said that although the murder weapon was never found, the wound suffered by Mr Soons bore all the hallmarks of being inflicted by a screwdriver.
'Each blames the other'
"He lost his life over a mobile phone," he said.
"The prosecution cannot say which of the two actually inflicted the fatal injury but they were both together at the relevant time.
"Each accepts that he was there, each blames the other and denies having any part in the killing of Mr Soons.
"In fact, the prosecution say that both are culpable.
"They had both robbed him, they had both been acting together before and during and they continued to act together after the attack.
"They left Mr Soons seriously injured - neither of them called an ambulance.
"It is possible that with quicker treatment he might have survived, albeit with significant residual mental problems."
Mr Soons' wallet and a ring he had been wearing were later recovered, the jury was told, but his mobile phone has never been found.
Mr Sexton denies murder but admits one charge of robbery. Mr Smith denies murder and robbery.
Mr Soons lived in Gloucester with partner Sam Ramsey, 23, the mother his daughter Tilly, who was eight months old when he died.
The trial is due to last for about two weeks.