Stroud group sends Christmas cards with a difference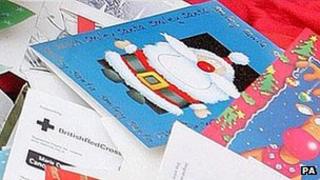 Have you bought, written and posted your Christmas cards yet?
How do you decide who to send the cards to?
Like me, I'm sure you send cards to people you know.
But for one organization in Gloucestershire that is not the case at all.
Members of the Amnesty International group in Stroud prefer to send Christmas cards to people they don't know.
Carole Oosthuysen said: "It's to express solidarity with people who are in jail who have not committed a crime in the conventional sense of the word, so they know there are people around the world who are thinking of them."
And it's not just Stroud either. There are Amnesty groups in Gloucester, Cirencester and Cheltenham who will also be scribbling away to send out their cards around the world.
'Astonishment'
Carole, who is a member of the Mid Gloucestershire group, continued: "Hundreds and thousands of cards are sent from groups around the world, much to the astonishment of the prison warders. That makes the authorities take notice and sometimes the prisoners are released."
The annual Greetings Card Campaign goes on from 1 November to 31 Dec with Christians and members of other faith groups among those taking part.
But you won't find the baby Jesus or kings and shepherds on these cards.
"It's usually a card with holly or a snow drop on," said Carole. "After all you wouldn't send a Christian Christmas card to a Muslim."
This year Carole and her friends will be sending a couple of hundred cards.
"We make the card writing a real event with an evening of mulled wine and mince pies."
Maybe that's the answer to writing my Christmas cards - make it a real event.
So, I'm off to buy a Father Christmas hat, fill up my pen and spend a 'yo ho ho' evening writing my Christmas cards - only to people I know!
You can hear Richard Atkins on BBC Radio Gloucestershire every Sunday from 06:00-10:00 GMT.