Painswick group plans to run a community library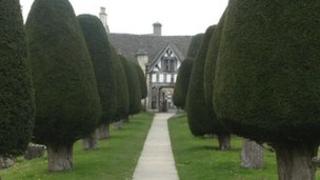 Plans are under way to reopen a library in a Gloucestershire village which lost its last facility two years ago.
A bid has been made to Gloucestershire County Council for money to upgrade an upper room in Painswick Town Hall and help with the running of the facility.
The village's library remains closed following an inspection in 2009 which concluded that the building was no longer safe for public use.
The funding is being sought through the authority's Big Community Offer.
'Great importance'
Peter Corley, chairman of a group of trustees which is setting up the new library, said the idea "means a lot" to the village.
"My wife and I do extensive amounts of reading and also we are involved in a number of activities where it has become quite apparent that having a library in the community is of very great importance to older people and particularly to families with children."
The chairman of Painswick Parish Council, Terry Parker, said there had been quite a lot of reaction to the closure of the previous library and as to why the listed building had not been better maintained.
In November, the county council, which has to save £114m over the next four years, lost a High Court ruling which meant it had to reverse plans to close 10 libraries in the county.
As a result of the judicial review, the Big Community Offer was put on hold but Painswick's plans are unaffected because the old library was closed before any cuts were announced.