Gloucestershire breastfeeding scheme has positive start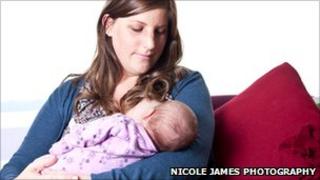 The take-up of a scheme to encourage breastfeeding-friendly locations in Gloucestershire has been "better than expected", organisers have said.
In six months, more than 100 libraries, children's centres and businesses have signed up to the Gloucestershire Welcomes Breastfeeding scheme.
A spokeswoman said the reception received for the projecthad been "much more positive" than expected.
It is hoped that next year will see a greater interest from local businesses.
Breastfeeding-friendly cafes, shops and other businesses that register receive window stickers to display and are listed online.
'Plugging away'
Kirsty Bassett, a trustee for the Gloucestershire Breastfeeding Supporters' Network (GBSN), said the scheme had been tried elsewhere in the UK and had a slow take-up.
"We were really thrilled that the first time we contacted some businesses they said on the spot that they would sign up", she said.
"Stroud, for example, was brilliant and in Tewkesbury we have been surprised how receptive the businesses have been.
"In other areas we have been slightly disappointed, such as the Forest of Dean, and there will be lots of reasons for that but we are going to keep plugging away."