Leckhampton nature reserve clear-up starts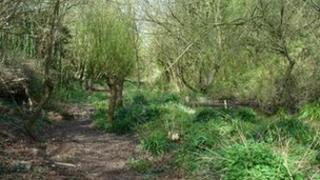 Work has started on a £10,000 five-year plan to improve a nature reserve in a Gloucestershire village.
Pilley Bridge, previously part of the old Kingham railway line, is 1km (0.6 mile) long and is home to a number of different habitats.
Cheltenham Borough Council's community ranger service, which manages the site, is working with the British Trust for Conservation Volunteers on the project.
The area of natural beauty will be tidied so it can be used safely.
The Pilley Bridge Conservation Group also looks after the site.
'Dominated with brambles'
"We are hoping to carry out some tree work to open up the tree canopy and encourage some of the native tree and ground flora to grow," said community ranger Janice Payne.
"The work includes removing some ash and sycamore trees which dominate the reserve in the west and create some seating using the timber from the trees.
"On the eastern side of the bridge, the small clearing area has become overgrown and dominated with brambles and self-sown ash.
"The work will involve clearing the brambles and creating a grassland habitat to encourage insects and butterflies."
The £10,000 funding has come from Cheltenham Borough Council's environmental fund.