Gloucestershire charity given grant for 'Geowardens'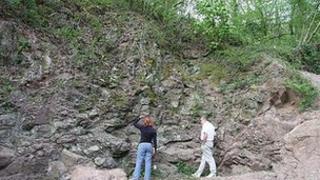 A geology charity in Gloucestershire has been awarded a Heritage Lottery Fund grant to recruit "geowardens".
Gloucestershire Geology Trust (GGT) has £39,500 to train a team of volunteers to manage the Huntley and Longhope Geology and Landscape Trail.
The trail's geological sites include fossilised coral reefs and an outcrop of volcaniclastic rocks.
David Owen, from the trust, said it was chosen because of its history of "volcanoes and earthquakes."
The trust was set up in 1992 to survey and record regionally important geological sites.
The wardens will be trained in conservation and rural skills to help conserve the geodiversity around the villages of Huntley and Longhope.
According to the trust, the village of Huntley "has a special role in the geological history of the county".
'Earth's crust'
"That is why we have chosen this area for the project," said Mr Owen.
"It can tell stories of volcanoes and earthquakes, tropical seas and mighty rivers.
"At Huntley, you can see and touch the rocks that were part of the collision of continents some 460 million years ago, and where the Earth's crust was wrenched apart around 250 million years ago."
The project is due to be launched at a public meeting at Huntley Village Hall on 25 January.