Queen Victoria etchings auctioned in Gloucestershire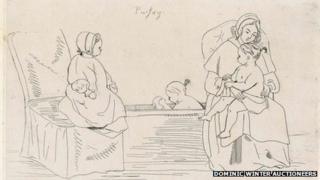 Family etchings that were drawn and engraved by Queen Victoria have sold for £6,600.
The six prints, which depict her children Victoria and Alice as infants, sold to a telephone bidder on Wednesday afternoon.
Auctioneer Chris Albury, from Dominic Winter in Gloucestershire, described the work as "fly-on-the-wall domestic scenes inside the royal household".
Queen Victoria and Prince Albert took up etching in 1840.
Mr Albury said that apart from collections at Windsor and the British Museum, very few etchings by either existed.
Five of the etchings are of Princess Victoria, the Princess Royal, while the sixth features Princess Alice, he said.
They were sold at Dominic Winter's auction in South Cerney, Gloucestershire by a West Country family.
Mr Albury said five phone bidders from the UK had fought it out, with the winning bidder purchasing them for £7,887 including a 19.5% premium.
"The lot was bought by an anonymous UK collector and I get the impression they were bought to be kept in the family forever more," he said.
Impressions of plates etched by the Queen and Prince Albert were pulled from a press for the couple and their close friends.
The plates were sometimes entrusted to a printer called Brown but in 1847, royal gossip journalist Jasper Tomsett Judge acquired 60 prints for £5 from Brown's employee, Middleton.
When Judge advertised an exhibition and catalogue of the prints, the Queen and Prince Albert took out an injunction to stop them entering the public domain.
The etchings that were auctioned are not known to have been subject to the injunction, Mr Albury said.