NHS Gloucestershire legal battle reaches High Court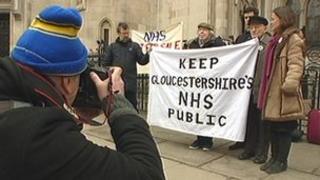 A campaign against NHS plans to change the way Gloucestershire health services are run has reached the High Court.
Michael Lloyd, 75, from Stroud, has sought a judicial review over plans to hand management of county hospitals and some services to a new body.
He claims NHS Gloucestershire acted unlawfully by not giving proper consideration to other options.
But health chiefs said the case could "accelerate the very thing the challenger says he is opposed to".
A new body - the Gloucestershire Care Services Community Interest Company - was due to begin managing some health services last October.
Mr Lloyd, a retired railwayman, said: "I'm worried that if local health services leave the NHS they will be more vulnerable to cuts, more fragmented, more bureaucratic and less accountable.
"Staff tell me they are frightened for their future, and have had no say in leaving the NHS they take pride in working for."
Chief executive of NHS Gloucestershire, Jan Stubbings, said: "If successful and taken to its logical conclusion, the legal challenge would mean that community services would be competitively tendered with the result that bodies, both within and outside the NHS, could respond.
"Local people would benefit from a community interest organisation responsible solely for providing community based NHS services, close to home."