Cheltenham lifeboat launch is to re-enact event from 1866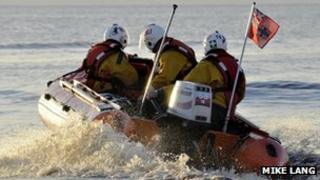 A lifeboat is to be launched at Pittville Lake in Cheltenham, re-enacting an event from almost 150 years ago.
The RNLI will launch an inshore craft later, to promote a play about the history of the charity.
In 1866 Cheltenham residents raised money for a new Burnham-on-Sea lifeboat and it was shown off on the lake before it went into service.
The launch will take place at 14:00 GMT.
RNLI volunteer Burnham-on-Sea, Ricky Holmes, said: "I'm sure the lifeboat team at Burnham 146 years ago were very grateful to the people of Cheltenham and now we have a chance to say thank you again."
The boat to be used will be a D-class lifeboat called John Charles Raybould, which has been used for crews in the South West to practise their capsize drills.
The original lifeboat was launched "amidst much enthusiasm" on to Pittville Lake on 10 October 1866, according to the RNLI Lifeboat Journal, a spokesman said.
The play about the history of the RNLI will take place at the Parabola Arts Centre in Cheltenham on 29 and 30 March.