Gloucester Roman ruins viewing window completed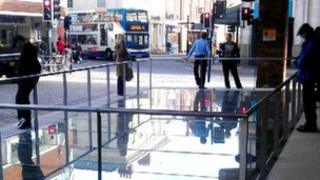 Construction work on a £200,000 viewing window for part of Gloucester's Roman ruins has been completed.
Toughened glass has been installed over the Eastgate Chamber in Eastgate Street, which houses remains of the city's defences.
The structure the window replaced was built in 1980 and had been described as a "concrete and glass monstrosity".
The chamber also contains the base of a 13th Century tower and a Tudor horse pool where livestock was washed.
Leader of Gloucester City Council, Paul James, said the new viewing window would showcase the city's Roman remains in "a more effective and attractive way".
"We as a city have been guilty in the past of not making as much of our Roman history [as we should have done] and this is a good first step," he said.
"Along with the museum revamp, the restoration of historic buildings and the opening up of Blackfriars Priory it will make people understand Gloucester's status as one of the top 10 historic cities in the country."
A council spokesman said internal lighting still had to be installed but the external structure has been completed ahead of schedule.