Edinburgh Zoo's penguins moved to Gloucestershire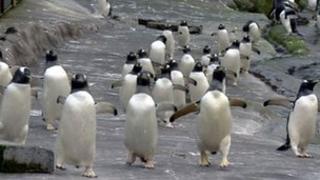 Six penguins made homeless when their pool sprang a leak are heading south to Gloucestershire.
All Edinburgh Zoo's king penguins, including Sir Nils Olav, are being rehomed at Birdland, near Bourton-on-the-Water.
They are among more than 100 penguins being moved, with the others heading for zoos in Belfast and Denmark.
The penguins are expected to return to Scotland in about six months when their pool has been repaired.
'Stimulate' the colony
Birdland is already home to a colony of 14 king penguins and the new arrivals will be the first in 12 years.
Director Simon Blackwell said: "It will certainly stimulate activity for our group having new penguins coming in.
"We'll have 15 males to five females so it's going to create a stimulus and hopefully it will make sure we have another couple of youngsters this year."
The six male penguins will be placed in quarantine for 14 days before being introduced to the group.