Gloucestershire incinerator plans are submitted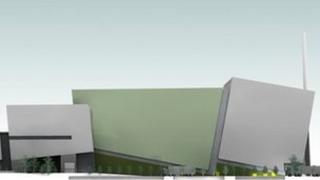 A planning application for a waste incinerator at junction 12 of the M5 in Gloucestershire has been submitted.
Urbaser Balfour Beatty has unveiled its proposals for the Energy from Waste incineration facility in Haresfield.
The plant at Javelin Park will produce electricity and recycle household waste. A 25-year contract worth £500m is due to be awarded in June.
The consortium was chosen as Gloucestershire County Council's preferred bidder in December.
More than 5,000 people signed a petition in 2010 opposing the plans.
Opponents of the incinerator said the council should have looked at alternative technologies and claimed much of the "real consultation" had been done "in secret".
Javier Peiro from Urbaser said: "We have taken into account feedback received and we will continue to work closely with the community to ensure our facility protects the environment and delivers real benefit for the local community."
The plant is due to be opened in 2015.