Gloucester Cathedral visitors donate 55p each for entry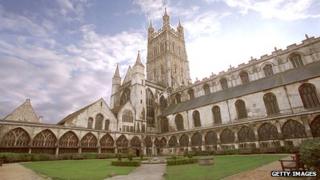 Gloucester Cathedral visitors donate on average just 55p of the suggested £5 entrance fee, figures have shown.
Each year it costs £2.2m to run the cathedral and about 10% of that sum is raised through visitor donations.
The Dean of Gloucester said entry would remain free but it was difficult to know why the average gift was that low.
The suggested donation was last increased from £3 in December 2010 and a strategy is currently being looked at to encourage a greater response.
'Taken for granted'
"It's not a crisis by any means," said the Very Reverend Stephen Lake, Dean of Gloucester.
"The cathedral is only standing here because of the generosity of people down the ages.
"I just think that the cathedral has been here for so long and people - in the most pleasant way - take it for granted."
It costs £6,000 a day to run Gloucester Cathedral and it relies on voluntary contributions to help with maintenance and conservation costs.
The dean said the suggested gift amount reflects the sum needed to do all the things they wanted to do on site.
"It's not so much a case of things don't get done, but they get delayed and then they cost more," he added.
The nearby Worcester Cathedral and Hereford Cathedral have also resisted the need to force an entry fee on visitors.
Public donations cover 10% of running costs at Worcester Cathedral and 35% of running costs at Hereford Cathedral.