Damaged Ashleworth verge reinstatement plan begins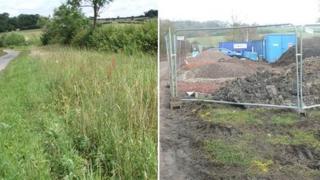 A two-year plan has begun to reinstate a "species-rich" protected verge which was destroyed by diggers in error.
Contractors replacing water mains dug over the roadside verge in Ashleworth, Gloucestershire, and laid down tonnes of hardcore to create a site compound.
The area is to be cleared this week before the ground will be scarified and the top soil laid back down.
Gloucestershire Wildlife Trust said the site contained nationally scarce plants and over 500 common spotted orchids.
It was turned into a site compound in January by Morgan Sindall, which was working on behalf of Severn Trent Water.
Verge cleared
Once the error had been realised, an environmental advisor was brought in to offer guidance on how to minimise damage to the tubers and bulbs in the soil.
Dr Colin Studholme, from Gloucestershire Wildlife Trust, said: "Superficially, the verge may look like it has been restored to its original state in as little as five to six years, but ecologically we'll never know if it will ever be the same again."
He said that a detailed plan of restoration would be implemented over the next two years.
This plan has been agreed by Severn Trent Water, Morgan Sindall, Gloucestershire Wildlife Trust, Gloucestershire Highways and local residents.
A joint statement from Severn Trent and Morgan Sindall said the verge was due to be cleared this week and the soil lightly scarified.
"Following the advice of an environmental adviser, the top soil, which has been securely stored on site, will then be reinstated and watered," the statement added.
"Contractor Morgan Sindall and local residents will continue to water and monitor the site as it regenerates."