Shannon brothers sought over stolen antique books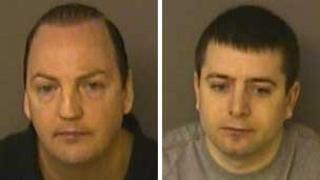 Police want to speak to two brothers in connection with more than 100 stolen antique books and objects offered for sale at an auction in Gloucestershire.
William Knowle Shannon, 30, and Andrew Shannon, 46, whose last known addresses were in Dublin, were arrested and questioned in relation to the thefts.
They were given bail and told to return to a Gloucestershire police station in July 2011, but failed to appear.
Among the items is a Chinese porcelain goose valued at around £20,000.
The books offered for sale in South Cerney date between 1571 and 1962.
A number of them contain personal inscriptions, including one to the wife of Sir Winston Churchill.
There is also a bronze sculpture by Clodion and a green hardback book of poetry, The Wild Harp by Katherine Tynan.
Inside is written: "To Lady Glenconner."
The books and ornaments are believed to have been stolen from stately homes or possibly National Trust properties across England, Scotland, Ireland and Wales.
A Gloucestershire police spokesman said officers have been working to try to locate the men and they are now asking the public for their help to find them.