Fire crews in Gloucestershire get flood rescue boat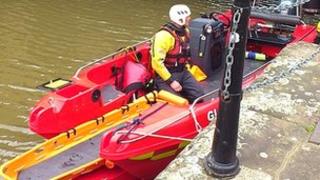 Firefighters in Gloucestershire have launched a new rescue boat to help them deal with future flooding.
Gloucestershire Fire and Rescue Service was given nearly £57,000 a year ago to help deal with flood emergencies.
Some of the money has gone towards the boat, which is designed to operate in a variety of flooding environments.
Chief Fire Officer Jon Hall said the county had "a unique experience" of flood rescues and the boat would help to improve emergency responses.