Pheasant trapped in car grille survives 40-mile trip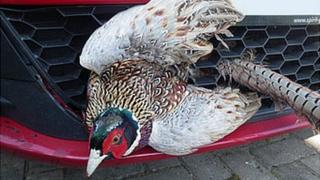 A pheasant stuck in the front grille of a car after being hit is recovering at a wildlife rescue centre after surviving a 40-mile journey.
The male bird was hit near the A46 on the road leaving Bath. The driver did not stop and carried on driving to his job in Stonehouse, Gloucestershire.
The pheasant remained "well and truly wedged" until it was spotted and rescued, an RSPCA spokesman said.
It is now at Oak and Furrows Wildlife Rescue Centre near Cirencester.
"We couldn't be more thrilled about how well he is getting on," said RSPCA inspector Rachel Hayward.
"He was quiet on arrival, but now he is much livelier and is eating very well.
"Miracles do happen and I would urge anyone who does hit a bird or animal when they are driving to please stop.
"Either call for help or collect the animal if possible and take it to a local vet."