Man convicted of email threat to Louise Mensch's children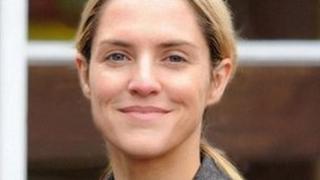 A 60-year-old Gloucester man has been convicted of sending a death-threat email to the MP Louise Mensch.
Frank Zimmerman told the Conservative MP for Corby, a mother of three, she would have to choose which one of her children would die.
He failed to attend Gloucester Magistrates Court, blaming agoraphobia, but was convicted in his absence.
In a victim impact statement read to the court, Mrs Mensch said: "I was terrified on behalf of my children."
Zimmerman, of Spinney Road, Barnwood, was convicted of sending by public communication network an offensive, indecent, obscene, menacing message or matter.
The court heard he failed to attend any court appearance to answer the single charge he faced or give proper instructions to his solicitor, blaming his agoraphobia and depression.
Defence solicitor Charles Cronin told District Judge Martin Brown he had spoken to Zimmerman by telephone and he would not be attending court and was instead going back to bed.
'Felt powerless'
Prosecutor Gaon Hart told the court that Zimmerman sent the email to Mrs Mensch after she spoke out during last summer's riots, calling for the police to be able to close social networking sites temporarily.
The court heard Zimmerman first made contact with the author-turned-MP on Twitter using a pseudonym, claiming he had information about Piers Morgan and the News of the World phone-hacking scandal.
Mrs Mensch sent him her personal email address and it was to that account Zimmerman sent the threatening message.
In her statement to the court, Mrs Mensch said: "I was in New York with my husband recovering from an operation and my children were with their father and to receive a threat like this made me very upset.
"I was 3,000 miles away from my children and I was worried for their safety and the safety of my ex-husband. I felt powerless to do anything."
The judge said he had decided not to issue an immediate warrant for Zimmerman's arrest and would sentence him on 8 May.