Cotswold Country Park death: Cousin tried to find Kajil Devi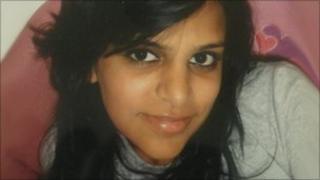 The cousin of a teenager who died at a Gloucestershire lake has told an inquest how he searched for her.
Akshay Kumar, 18, said that he had worn goggles and spent 25 minutes searching under water but had failed to find her.
Kajil Devi, 15, from Feltham, London, died in July 2010 after being pulled unconscious from the water at Cotswold Country Park.
"In my head I thought she's drowned, but I couldn't think like that," said Mr Kumar.
'Totally confused'
Gloucester Coroner's Court heard Ms Devi had been playing with two younger family members, none of whom could swim, in an inflatable boat near the shore.
The boat drifted out and she slipped under the water trying to retrieve it.
Sunil Kumar, her father, told the inquest that at one point he had thought someone may have kidnapped her.
Speaking through an interpreter he said all the family were "totally confused" upon receiving various reports of his daughter going missing.
Her body was pulled from the water by Nathan Stroud, 26, from Gloucester, who was spending the afternoon at the lake.
Mr Stroud said his friend, Pierre, had "stumbled" on something under water and "looked scared".
"I searched for a minute or two and remember touching something with my leg," he told Gloucestershire's assistant deputy coroner Tom Osborne.
"It felt like a cushion. I reached down to grab it and pulled up a purple t-shirt and saw it was a little girl."
Sufficient staff
He said that there was no sign of life and had instantly tried to get her to the shore where he yelled for help.
Ms Devi was given CPR by a lifeguard and taken to hospital where she died the following day.
Previously her family said they were concerned about safety standards at the park and claimed too few lifeguards were on duty.
Watermark, the company which manages the water park and beach, said in response that there was sufficient staff on duty at the time of the incident.
It added that lifeguards were there as a precaution and that signs clearly stated families must supervise their children.
The Cotswold Country Park and Beach forms part of the Cotswold Water Park on the Gloucestershire Wiltshire border.
The inquest is expected to last up to five days.