Forest of Dean Wilderness Centre campaigners evicted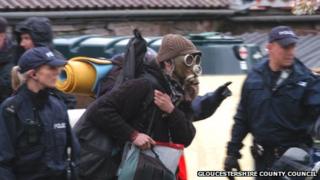 Campaigners who have been occupying a disused environmental education centre in Gloucestershire have been removed.
Gloucestershire County Council said the "squatters" had been evicted during a "peaceful eviction" earlier.
The Protect the Wilderness group moved into the Forest of Dean site in January as part of a protest against council plans to sell the Wilderness Centre.
Police officers and court bailiffs carried out the eviction warrant which was granted by a judge last month.
'No choice'
The warrant was initially appealed against by the campaigners and the eviction delayed but earlier this week the original decision was upheld by a judge in Bristol.
Additional security is being installed at the site to prevent the squatters from moving back in.
Thom Forester, spokesman for Protect the Wilderness, said he was "shocked" at the eviction.
He said: "About 05:30 BST this morning around 40 police with dogs, as well as private security guards and bailiffs, smashed through the door of the Wilderness Centre and forcibly evicted the members of the Protect the Wilderness trust.
"What has happened today is unlawful and as far as we are concerned the legal case is still ongoing."
Mr Forester said the council had not served any notice of the eviction and the campaigners would continue their fight.
'Calm and orderly'
Councillor Ray Theodoulou, from Gloucestershire County Council, said: "We said from the beginning we wanted to avoid taking legal action here but we were left with no choice.
"Fortunately this morning's operation went well I would like to thank the police for their efforts in ensuring this matter was dealt without incident."
No arrests were made during the eviction and Gloucestershire Police said the operation had gone "smoothly" and the protesters were escorted from the site "in a calm and orderly manner".
The council closed the Wilderness Centre at Mitcheldean in August last year because of budget cuts.
About 12 protesters moved in to the property saying it "belongs to the people" and they wanted to reopen it to the public.
A separate campaign group, Friends of the Wilderness, has submitted a bid to the council to buy the centre with a view to reopening it.