Cirencester Roman amphitheatre plans unveiled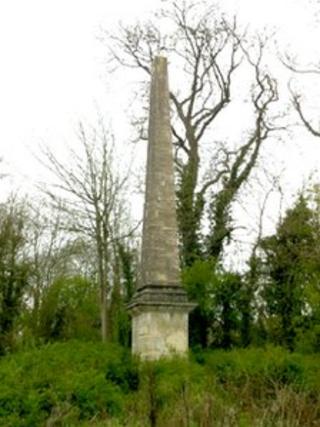 Plans to revamp Cirencester's Roman amphitheatre and surrounding area have been unveiled.
The town council, which has taken over management of part of the site from English Heritage, wants to improve access and erect new information signs.
Part of the scheme would see the restoration of the historic Chesterton Obelisk which is in woodland nearby.
Martin Conyers from the town council said it was an "exciting project" for Cirencester.
The earthworks, which still exist near to the centre of the town, are the remains of one of the largest Roman amphitheatres in Britain.
It was built in the early 2nd Century in the city of Corinium, which is now modern day Cirencester, and had a capacity of about 8,000 spectators.
The site is classified as a scheduled ancient monument.
Mr Conyers said: "It's a very sensitive archaeological area. We're hoping to improve the signage and interpretation of the site, and also improve the access onto it."
He said trees would be felled to restore the "sight line" to the 18th Century obelisk, which is in Cotswold Avenue on the old boundary of the Bathurst Estate.
The project also includes plans to create a walkway into the amphitheatre from the 15m-tall (50ft) obelisk, and a car park would be restored.
"The amphitheatre is a much loved part of Cirencester and people really do want to see it used and cared for a bit more," said Mr Conyers.
The council said the project would cost £41,000. A public consultation on the plans is to take place over the summer.