Dexter cattle to roam free on Charlton Kings Common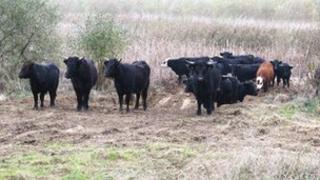 Cattle will be able to roam free on a Gloucestershire common in an effort to protect limestone grasslands.
The herd, on Charlton Kings Common, had been contained by temporary electric fences - but the council said these restricted access for walkers.
The fences have been removed and the 15 Dexter cattle will be able to roam with the public for the first time.
Volunteers will be giving out advice on how to behave around the animals on Saturday.
The common, rich in limestone flora, is a designated Site of Special Scientific Interest (SSSI). The cattle are to roam free from Friday evening.
A Cheltenham Borough Council spokeswoman said grazing the animals there was the most sustainable way of restoring the grassland and allowing less competitive flowers and herbs to survive.
Wayne Sedgwick, the authority's senior community ranger, said the cattle were not aggressive and would not be allowed to roam free when they had young calves.
"However, they may be inquisitive so we just want to make sure the public know how to deal with the animals when they are enjoying the common, especially if they are walking their dog," he said.