High winds and rain hamper travel across Gloucestershire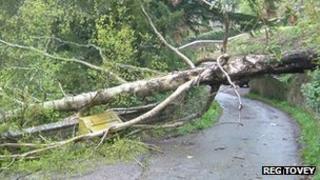 Police in Gloucestershire have dealt with dozens of weather-related incidents as heavy rain and gale-force winds cross the county.
More than 60 trees have been reported having fallen across roads including on the A417 near Cirencester.
Insp Arman Mathieson said the majority of the incidents had occurred in the Cheltenham area, Stroud, Dursley and parts of the Cotswolds.
He warned against travelling unless the journey was absolutely essential.
"It's great to hear how rural communities are working together to clear the roads and look out for more vulnerable residents," Insp Mathieson said
River 'worryingly high'
"The weather forecast is not looking good, with more high winds and heavy rain on the way and we are asking everyone to take extra care especially during the [Monday morning] rush hour."
Ian Lock, landlord of the Boat Inn at Ashleworth, which is next to the River Severn, said the water was "worryingly high".
"If we'd had a high tide on Saturday night we would have had trouble - thankfully we didn't - just another three or four feet and we would have had problems.
"We still could flood the worry is if other towns further up the river put their flood defences up the water will come down here and we'll suffer," Mr Lock added.
The Met Office issued an amber alert for heavy rain and strong winds for the Gloucestershire area.
A flood alert is in force on the River Severn around Gloucester. The Environment Agency said about an inch (25mm) of rain had fallen in six hours.
"Because of the drought an awful lot of the rain is going to go straight into the rivers [rather than soaking into the ground]," the Environment Agency spokesman said.
BBC weather forecaster Ian Fergusson said the uplands of Gloucestershire had seen gusts approaching 55mph.
"This is really exceptional for this time of year and so is the north northeasterly wind direction" he said.
"When it comes from the opposite direction and the trees are coming into full leaf this can add considerable stress to branches and trunks," he added.