Inquest says murdered Kate Prout was 'unlawfully killed'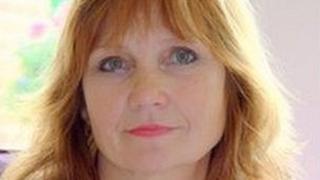 A millionaire farmer "snapped" and strangled his wife during an argument before sitting down to a glass of whisky, an inquest has heard.
Kate Prout, 55, vanished in November 2007 after she asked her husband for an £800,000 divorce settlement.
Adrian Prout was jailed for life in 2010 despite his denials but eventually confessed the murder to his then fiance Debbie Garlick and she told police.
A verdict of unlawful killing was recorded by coroner Katy Skerrett.
The assistant deputy coroner for Gloucestershire said: "The confession given four years after this horrific event is clear and unequivocal."
The inquest was told Adrian Prout, 49, wrapped his wife's body in a curtain and placed it in the back of his Land Rover and drove to a pub.
He then drove into woodland on his farm at Redmarley, Gloucestershire, and buried her body in a pheasant pen.
Prout then kept up the pretence that his wife was missing and despite being convicted of her murder he continued to protest his innocence.
For four years he continued to deny any involvement in her killing but last summer he failed a lie detector test.
The court heard that during the test he was asked the question: 'Did you murder Kate Prout?'.
He denied it but the test appeared to indicate he was lying.
In November 2011 he eventually confessed to his then fiance Debbie Garlick and she told police.
Days later he took detectives to the spot in Cobhill Woods where he had buried the retired teacher.
Mrs Prout's remains were found wrapped in a curtain and plastic sheeting, the inquest was told.
The remains were taken to Gloucestershire Royal Hospital and on 25 November they were identified from dental records as belonging to Mrs Prout.
Her funeral was held in January.
Prout, who owned a pipe-laying business and commercial pheasant shoot, had said he would need to sell £1.2m Redhill Farm to pay the divorce settlement.
He offered his wife £600,000 plus maintenance before later reporting her missing.