Queen Katherine Parr's love letters on show to public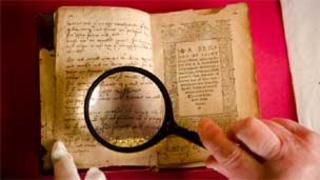 Two books written by Queen Katherine Parr, King Henry VIII's last wife, have gone on public display at Sudeley Castle in Gloucestershire.
She outlived the King and went on to marry Sir Thomas Seymour, Lord Sudeley. She moved to live at the castle in 1548.
Katherine was the first English queen to have material published under her own name.
Both of her books were written in English and promoted Protestant views.
The first published was Prayers or Meditations in 1545 and was reprinted 19 times by 1595.
Historian Dr David Starkey who unveiled the books said: "Katherine is a highly successful female writer. She very much plugs her own, distributing it to her friends and generates big sales and understood marketing.
"It was a period when everyone was undergoing the conversion to Protestantism and everyone was interested in the revelations of a Queen."
Within months of Henry's death, Katherine Parr married Sir Thomas Seymour in secret and moved to Winchcombe in the Cotswolds. News of their marriage caused scandal in the royal court.
Also on display for the first time are love letters from Katherine Parr to Sir Thomas Seymour.
In one of the letters she asks Sir Thomas to come and see her.
"When it shall be your pleasure to repair hither you should take some pain to come early in the morning, that you may be gone again by seven o'clock," it reads.
A year after her marriage to Seymour, Katherine Parr died after giving birth to her only child, a daughter. She is the only English Queen buried in a private residence.
Dr Starkey believes that Katherine Parr is one of the most important of Henry's queens.
"She was a queen with a mission. There is no doubt that Elizabeth I gets much of her confidence in ruling from watching Katherine act as Queen Regent when Henry is in France," he said.
"Elizabeth also learns much of her religion - the Protestant religion - from Katherine.
"In many ways Katherine is responsible for what makes us English, for what is the beginning of our English empire."
The books will be on display at Sudeley castle until 28 October.