Cotswold water vole survey asks for help with sightings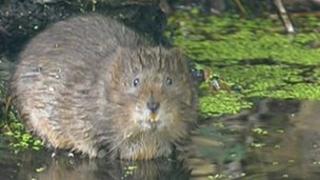 Visitors to the Cotswold Water Park are being encouraged to report sightings of water voles as part of a conservation project in the area.
Drought conditions followed by the recent floods mean the voles are using ditches, ponds and lakes.
Ben Welbourn, Park Trust Field Officer said: "Water vole numbers are gradually stabilising thanks to a tremendous effort from landowners and volunteers.
"The next phase is to see them spreading in range."
In previous years the surveys have focused on rivers but this year people are being asked to widen the search area.
"Surveying for their whereabouts is key to their ongoing survival. We'd welcome any information from the public as to their whereabouts," said Mr Welbourn.