Archaeology services cut at Gloucestershire County Council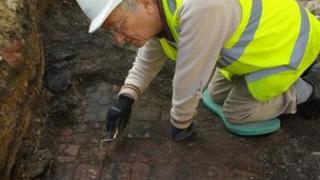 Ten people are set to lose their jobs in archaeology services at Gloucestershire County Council.
The council said the changes would leave a core team of five, as field work would be "wound down" over the next two years.
Compulsory redundancies would be avoided "where we can", the council said.
Mike Heyworth, the director of the Council for British Archaeology, said he was disappointed with the decision.
Under the changes, the preservation, recording and consideration of archaeology in developments would be retained.
The council's Alan Bently said: "We carry out field work that other people pay for.
'Loss of interest'
"This is the work that we are gradually winding down as employee's contracts and funding come to an end.
"There are local businesses that also provide this service, so developers, homeowners and grant paying agencies will still be able to get the work done."
Mr Heyworth said: "I think it's going to lead to a real loss of public interest and an opportunity to get involved in archaeology.
"Potentially it's going to lead to a loss of archaeological sites and information in Gloucestershire, and I just don't see the need for it.
"I would ask them to look at this very hard again."