Helicopter spun six times in Gloucestershire Airport landing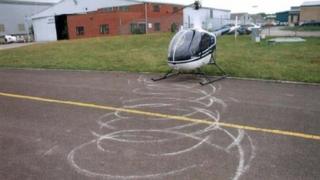 A helicopter spun round six times when a pilot tried to land it after he accidentally increased the power rather than decreasing it, a report has said.
The incident took place in September 2011 at Gloucestershire Airport.
The Air Accidents Investigation Branch said the pilot "inadvertently increased the engine power" which caused the helicopter to spin rapidly to the left.
The report concluded the unintentional increase in power combined with a move to the left caused the accident.
The pilot, who was not injured, managed to regain control after approximately six spins and landed the craft.
"The helicopter came to rest upright with the rear of the landing skids embedded in grass at the side of the apron," the report said.
"The skin of the helicopter's tailboom had buckled and its supporting structure had become distorted."