Cheltenham house explosion: Woman rescued from wreckage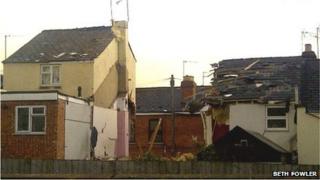 An elderly woman has been rescued from the wreckage of a house in Cheltenham.
Emergency services were called to the terraced house in Rosehill Street, near Sandford Lido, at about 19:37 BST following a gas explosion.
A Gloucestershire Police spokesman said the woman was being taken to hospital, but her injuries were not thought to be life-threatening.
BBC reporter Mark Jones said the house had been totally destroyed and was now just a pile of rubble.
Jon Hall, from Gloucestershire Fire and Rescue Service, said that when crews arrived they could hear the woman calling for help.
"[Crews] went in despite the risk of further collapse and worked with paramedics to get her out," he said.
Gloucestershire Police said about 20 homes on the road have been evacuated.
"A structural engineer from the council is in attendance as a number of houses appear to be extensively damaged," a spokesman said.
"Holy Apostles Church has opened its doors to local residents to find shelter and refreshments."
Beth Fowler, who lives close to the scene, described how she had heard a loud bang.
"My mum went out into the kitchen at first I thought she had dropped something," she said.
"The French doors at the back of the house were blown in and all the glass smashed and our dining room ceiling is badly cracked.
"The bricks and tiles from the house that blew up have gone everywhere - it's a complete mess."
Rob Perry, who lives about half a mile away from the house, said he was walking up the stairs when all the windows in his house rattled.
"It was quite a powerful blast even from this distance at first I thought our house could be falling down," he said.
The police spokesman said both Rosehill Street and Hales Road were expected to be closed for some time.
He added that gas and electricity supplies had been been turned off in the street as a precaution.