'Explosives' arrests in Cheltenham as homes evacuated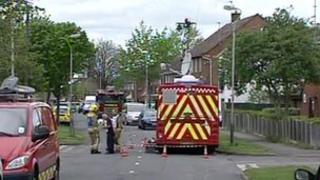 Two men have been arrested and up to 50 homes evacuated after suspicious items were found in a garage in Cheltenham.
A 52-year-old man was arrested under the Explosive Substances Act in the Hester's Way area of the town earlier.
During further inquiries, officers found "items requiring further investigation" in a garage in Buttermere Close.
A 31-year-old man has also been arrested and a bomb disposal team has been called in to assess the scene.
A 100-metre cordon was put in place around Buttermere Close which has now been extended to 200-metres.
'Nothing to suggest'
Residents from about 50 houses have been evacuated as a precaution, a Gloucestershire Police spokesman said.
The spokesman said it was "highly unlikely" they would be allowed back in their homes later.
Cheltenham Borough Council has set up rest centres in two community halls nearby to accomodate displaced residents.
The incident comes a day after a house was destroyed in a gas blast elsewhere in the town.
A Gloucestershire Police spokeswoman said: "Yesterday's incident was a gas explosion and today's incident was part of a pre-planned policing operation.
"There is nothing to suggest they are connected."