Police given more time to quiz Cheltenham men over terror offences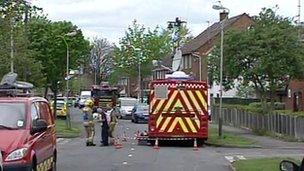 Police have been granted more time to question two men over terrorism offences after suspicious items were found in a Cheltenham garage on Friday.
Initially held under the Explosive Substances Act, the pair aged 52 and 31 were further arrested on suspicion of the commission, instigation or preparation of a terrorist act.
It follows the examination of items found in a garage in Up Hatherley.
Officers have been given permission to detain the men until 18 May.
The South East Counter Terrorism Unit, which has assumed responsibility for the ongoing investigation, will then have to decide whether to charge or release the pair, or apply for a warrant to hold them further.
Gloucestershire Police has now lifted the 200 metre cordon that was in place around Buttermere Close.
A 25 metre cordon will remain in place around the garage, but this area does not contain any homes.
Residents from about 100 houses that were affected have been allowed to return to their homes.
Assistant Chief Constable for Gloucestershire Constabulary, Richard Berry said: "We are incredibly grateful for the support we have received from the community during what had to be a methodical and thorough search of the area for the safety of local residents."
Police will be carrying out house-to-house inquiries in the area over the next few days.
Related Internet Links
The BBC is not responsible for the content of external sites.