Marian Partington's bid to forgive Fred and Rose West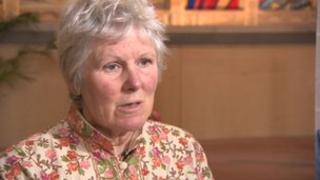 The sister of a victim of serial killers Fred and Rose West has spoken of how her journey towards forgiveness only began after feeling her own "murderous rage".
Marian Partington's younger sister Lucy was 21 when she disappeared in 1973. Her body was among those recovered from the Wests' house in Cromwell Road, Gloucester in 1994.
Ms Partington, now 64, said: "My own experience, shortly after making this vow to try and forgive the Wests, was to experience my own murderous rage.
"In that moment I knew I was capable of killing too and it wasn't something I had really faced before.
"Somehow it's easier to scapegoat others who have acted from this place than to face an aspect of being human that we all share and, somehow, in that moment I couldn't remain separate."
Part of her journey to forgiveness has involved writing to Rose West in prison.
"She has a potential to know her own true nature just as I have a potential to murder," Ms Partington said.
"I didn't write to her to say I forgave her, I wrote to her because I wanted her to know something of the profound journey I had had to go on in order to find compassion within myself for her and that this had been a very important journey.
"I realised it was important she knew I didn't feel hostile towards her, that I felt genuinely well-wishing.
"Even though the reply wasn't encouraging, ultimately I felt like I had done everything I could and had completed something I had made a deep commitment to in my life."
'Sense of peace'
Ms Partington has now written a book about her "extremely long and arduous journey" since Lucy's disappearance, and the title - If You Sit Very Still - comes from a dream she had just after her sister went missing.
"In the dream Lucy came back to me and said the words to me, 'If you sit very still you can hear the sun move'.
"I experienced a deep sense of peace in that dream. Even if she was dead, if she felt like that somehow it was all right.
"And yet the other extreme of going through those years was the fear as things got worse, as we got further away from her disappearance, perhaps we would all die and never know what happened to her."
Ms Partington described her sister as "a very scholarly person" when she disappeared during her final year at Exeter University.
"She had also become a Catholic five weeks before she was murdered so her aspirations were towards truth and beauty, and she was a religious, serious, piercingly intelligent, thoughtful, gentle person."
'Finding compassion'
Ms Partington said she had confronted "some very deep issues about human atrocity" since her sister's body was found and learned to reclaim "the beauty of Lucy's life from the horror of what happened to her".
"I don't ever say I've forgiven Rose and Fred, I say that what happened was I realised that making a very strong commitment to moving in a direction of becoming forgiving or to finding compassion for the Wests was the beginning of the journey.
"As soon as I made that resolve I had a sense... that would mean my life wasn't corrupted by bitterness, hatred and revenge."
Ms Partington has since become involved in a project where she goes into prisons and schools to talk about forgiveness.
"When I tell something of this story... it touches something in people and - even though it's an extreme experience - it resonates with the reality that we have all got this unresolved pain.
"The question is what do you do with it so you live your life in a way that's more about not getting stuck in harmful, destructive feelings, but moving towards feelings that help you to realise and know that ultimately we are all interconnected so how we live our lives makes a big difference."