Stroud mayor census refusal case dropped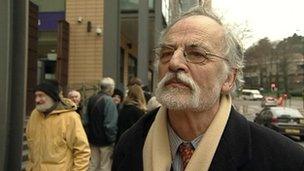 A Gloucestershire mayor will no longer face charges after refusing to fill in his census form.
Stroud Mayor John Marjoram, a Quaker, said he refused to complete the form because of his beliefs.
In February, Mr Marjoram pleaded not guilty and was due to face trial at the end of May.
The Crown Prosecution Service said the case was dropped because there was "not enough evidence to provide a realistic prospect of conviction".
A census is held every 10 years to find out about the people in the UK, with the most recent on 27 March 2011.
Everyone in the country was legally obliged to complete a census questionnaire to help the government decide how best to plan and deliver public services.
Mr Marjoram said he was "pleased and relieved" the case had been dropped, but said it would deny him a chance to ask questions in court.
"I am disappointed not to have been given the opportunity to give evidence in my defence and to ask some pertinent questions about why the case was brought against me in the first place," he added.
Related Internet Links
The BBC is not responsible for the content of external sites.