London 2012: Boy to honour athlete granddad at torch relay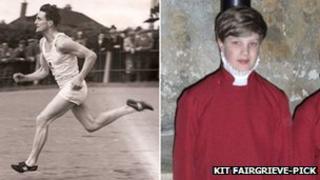 The arrival of the Olympic torch in Gloucestershire as part of its UK relay tour will have an extra special meaning for one young cathedral chorister.
Twelve-year-old Kit Fairgrieve Pick, who will be singing as part of the cathedral arrival party on 24 May, is the grandson of athlete John Fairgrieve who ran in the 1948 London Olympics.
Mr Fairgrieve, a quarter finalist in the 200m, was a reserve athlete nominated to carry the Olympic Torch into the stadium during the opening ceremony.
The honour was given to the other athlete who in the end did not participate in the games as he was not fit enough.
"He's an athlete. He ran the 200m. In the race he didn't come first but in my eyes he's always a champion to me," said Kit.
"I'm very, very excited [about the Olympics.] It's such a great connection and I'm just really, really proud of my grandpa."
'Absolutely wonderful'
Mr Fairgrieve, who is now 86, will not be at the cathedral to see the torch when it visits Gloucester as part of its 70-day tour.
"He was invited to run through Painswick but because he recently had a hip operation he can't sadly make it," added Kit.
Some 8,000 people will carry the Olympic torch when it arrives in the UK on 18 May.
The relay begins its 8,000-mile journey around the UK at Land's End, Cornwall, on 19 May and reaches the Olympic Stadium in London on 27 July.
The cathedral choir will sing Holy is the True Light by William Harris as the torch arrives.
"I think to be singing a song about light, which connects to the torch, is absolutely wonderful," said Kit.
The Very Reverend Stephen Lake, Dean of Gloucester, said: "We are delighted that only five days into the torch route it is making a detour to visit our cathedral.
"We hope as many people as possible will join us to give it a flaming good welcome."