Charity finds Cotswolds home for large blue butterfly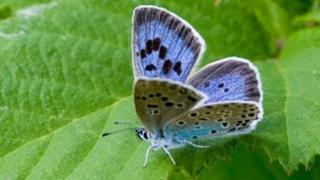 The rare large blue butterfly is set to be reintroduced in the Cotswolds as part of a nature charity project.
Rough Bank, which overlooks the Slad Valley, has been bought by Butterfly Conservation.
The charity hopes to develop the 44-acre hillside into a key breeding site, which is already home to four other blue butterfly species.
Head of reserves John Davis said: "It was naturally a site for the large blue, so it is inherently suitable."
'Important site'
"It is already an important site for the small blue, chalkhill and Adonis," he added.
"But we don't want to lose them as part of the process of making it home to the large blue."
Natural England paid for half of the cost of the land with a £100,000 grant.
The money will be used to clear some scrubland, graze the site with cattle and ensure the right species of the red ant is present.
Public access and flood drainage systems will also be installed.
The large blue became extinct in the UK in 1979 and is globally threatened.
But after the discovery of its reliance on a species of red ant, it has been successfully reintroduced at a number of sites across southern England.
The butterfly lays its eggs on wild thyme.
Once hatched, the caterpillars feed on the plant before dropping to the ground where red ants (Myrmica sabuleti) mistake them for ant larvae and take them into their colonies.
There the butterfly larvae feed on ant larvae until they emerge as butterflies.